Dr. Jay Singh
Dr. Singh considers himself a Georgia native, growing up in Augusta and then attending Emory University on an academic scholarship. He was a student-athlete, finishing in the top 10% of his class with a BA in English while swimming for the Emory Eagles. While in college, he was fortunate enough to serve on the Emory University Honor Council and received the honor of Sophomore Acceptance to Emory University School of Medicine.
Dr. Singh left Georgia in 1990 to start his surgical residency at the University of Texas Southwestern Medical Center/Parkland Hospital in Dallas, Texas. He spent five intensive years in clinical residency and an additional two years with a National Institute of Health-sponsored grant to study colorectal cancer genetics. During his last year of surgical residency, he served as the Chief Administrative Resident.
Dr. Singh traveled back across the country to start his colorectal fellowship at the Cleveland Clinic Florida. After a one-year clinical residency, he stayed on as junior staff with the primary responsibility of educating the incoming fellows and overseeing the research residents. Life in South Florida was very productive providing excellent training along with authorship of multiple book chapters, papers, and presentations both in the United States and around the world.
Dr. Singh began his career at Piedmont Hospital in 2000, bringing his minimally invasive surgical experience with him. He was the first surgeon in the Piedmont system to routinely perform advanced laparoscopic colorectal procedures including those for colorectal cancer. He was the first surgeon in Atlanta to perform trans endoscopic microsurgical resection of rectal polyps and cancer (TEM/TAMIS) and the first surgeon in the state to perform these same procedures using the da Vinci robot. In 2010, he was the first surgeon in the Piedmont system to perform a robotic colon resection and he has now performed over 600 robotic colorectal cases amongst the over 2500 minimally invasive colorectal procedures that he has performed since the millennium. Working with and consulting for the medical industry, he has trained over 200 surgeons and their staff in both laparoscopic and robotic platforms. At Piedmont Healthcare, he has served on three boards including a brief period as Chair of the Piedmont Atlanta Hospital board, Director of the Piedmont Wellstar Health Plan board and currently serves as the Chair of Quality, Safety, and Service on the Piedmont Healthcare board.
At Piedmont Colorectal Associates, Dr. Singh serves the local community but also represents a large volume referral source for complex abdominal and pelvic surgery throughout Georgia and surrounding states. He believes that if surgery can be done safely in a minimally invasive fashion, then this should be attempted for the sake of the patient. He was elected as a member of Best Doctors in America in 2012 and continues to serve as one of its colorectal representatives. Despite this, he wholeheartedly believes that, in a world of fragmented medical care, it is not the best Doctors, but the best Care Teams that will provide the safest quality care that can be delivered. It should be the focus of our healthcare systems to create and promote these "Best Teams" rather than the "Best Docs".
Outside of his clinical and administrative duties, Dr. Singh enjoys cycling, swimming, traveling, sampling excellent wines, and spending time with his wife Gillian, as well as their three daughters, two dogs, and a pony.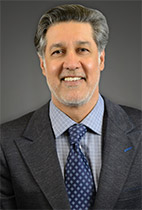 Medical School
Emory University
Internship
Parkland Memorial Hospital
Residency
Parkland Memorial Hospital
Fellowship
The Cleveland Clinic
Board Certification
Colon & Rectal Surgery; General Surgery