Dr. Paul Joyner
Dr. Joyner was born in Greenville, North Carolina. He attended the University of North Carolina at Chapel Hill for his undergraduate degrees in Biology and Psychology. He attended the University of South Alabama College of Medicine in Mobile, AL. After finishing medical school he served at the University of Connecticut in Hartford, CT for his General Surgery Residency. He completed his colorectal fellowship at St. Francis Hospital in Hartford, CT. After completing his colorectal fellowship he worked with the Colorectal Surgeons of Greater Hartford for two years.
After welcoming the third child to their family Dr. Joyner moved to Atlanta to join the practice at Piedmont Colorectal Associates in September 2015. Since that time he has practiced primarily at Piedmont Henry Hospital but he also provides services at our Atlanta Office. He is board certified in both Colon and Rectal Surgery and General Surgery.
Dr. Joyner performs treatment for a wide range of colorectal issues, both benign and malignant. He is certified to perform both robotically assisted and laparoscopic colorectal surgery for the treatment of various colorectal disorders including diverticular disease, inflammatory bowel disease and colorectal cancers. He also specializes in the care of anorectal disorders such as hemorrhoids, fissures, fistulas and fecal incontinence. He is well trained in a broad range of colon and rectal disorders and offers compassionate and comprehensive care to his patients.
Dr. Joyner has served and continues to serve on many professional committees and believes that it is important to participate in the governance of the hospital you work with and maintain the quality of the care provided. Of special note he has served as a member of the Robotic Surgery Committee and Medical/Surgical Quality committee at St. Francis Hospital and Institutional Review Board at Manchester Memorial Hospital. Currently he serves on the Operational Council Subcommittee, the Perioperative Governance Committee and Professional Practice Evaluation Committee at Piedmont Henry Hospital.
Dr. Joyner is married to his lovely wife Andrea, who is a practicing OB-GYN, and has three wonderful children. During his free time he enjoys reading, the outdoors, board games, adventure races and new experiences.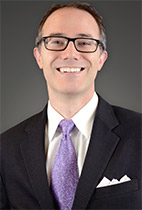 Medical School
University of South Alabama College of Medicine
Internship
University of Connecticut Integrates General Surgery
Residency
University of Connecticut Integrates General Surgery
Fellowship
Saint Francis Hospital and Medical Center
Board Certification
General Surgery, Board Eligible for Colon & Rectal Surgery