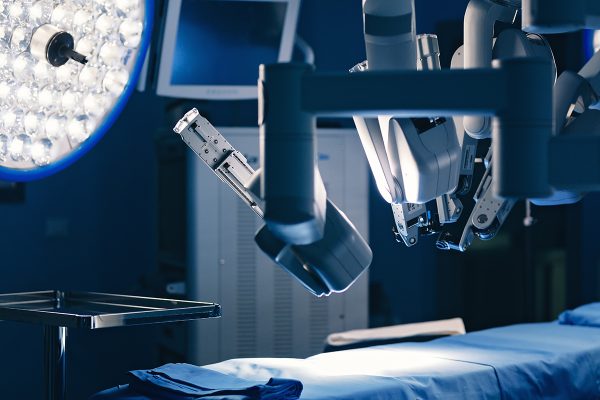 At Piedmont Colorectal Associates in Atlanta, we are proud to offer procedures with the da Vinci® Surgical System. This advanced technology allows our skilled surgeons to perform critical colorectal surgeries with just a few small incisions in the operating room. The device delivers a clear view of the inside of the body with magnified images, and the surgeon can sit while operating, reducing muscle strain.
The da Vinci® system features movements beyond the flexibility of the human wrist, so our surgeon can rotate and bend the device as much as needed during the procedure. The robotic technology's movements are also smaller and more precise than is possible with traditional colorectal surgery and laparoscopic colorectal surgery. A thin tube with a tiny camera and light is guided through the body and sends images to the video monitor in front of the surgeon. The surgeon always has complete control of the device.
How da Vinci® Surgical System Improves Colorectal Surgery
A 2016 meta-analysis investigated the efficacy of the da Vinci® system compared to traditional open surgery and laparoscopic surgery. Researchers included 10 studies with 2,767 patients. While they found no significant difference in the long-term outcomes in oncologic patients, there were shorter hospital stays and less blood loss.
Laparoscopic surgery, or laparoscopy, is a minimal-access approach performed with small incisions. It involves the use of a tube with a camera and light similar to da Vinci®, except the instruments are controlled by human hands, not by robotic arms. The da Vinci® system uses more intricate tools and provides precise maneuverability due to better dexterity and visualization. Open colorectal surgery involves one large incision in the abdomen for the surgeon to view the organs directly.
Patients in the meta-analysis who had colorectal surgery with the da Vinci® surgical system spent significantly less time in the hospital. They experienced less estimated blood loss, but the procedure itself took longer than the traditional surgeries. The da Vinci® surgeries were less likely to convert to open surgery than laparoscopic surgery.
Ultimately, researchers found da Vinci® is a superior option to laparoscopy and open colorectal surgery because of the reduced hospital time for the patient and less bleeding. This advanced technology allows the surgeon to control the robotic arms throughout the procedure and offers patients an easier recovery.
Schedule your appointment at Piedmont Colorectal Associates in Atlanta today to discuss your colon health. Contact our office at (404) 351-7900 or book your appointment online.