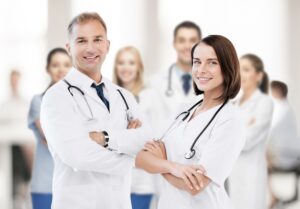 President Clinton officially declared March as National Colorectal Cancer Awareness Month in 2000, bringing much-needed attention to the prevalence and gravity of the disease. At Piedmont Colorectal Associates, we hope to help spread awareness about colorectal cancer throughout the month of March and share actionable steps to help prevent it from affecting the lives of at-risk patients.
Facts To Know About Colorectal Cancer
According to the Centers for Disease Control and Prevention (CDC), colorectal cancer is the second leading cause of cancer-related deaths among cancers affecting both men and women in the U.S. Approximately 140,000 Americans get colorectal cancer and more than 50,000 Americans die of it every year.
While incidents of colorectal cancer and the rate of cancer-related deaths is generally on the decline, doctors have seen a jump in the number of younger adults (i.e., under the age of 55) diagnosed with the disease in the past 20 years. No single causative factor has been identified, but diet and lifestyle may be to blame. Check out other recent trends in colorectal cancer.
Colorectal Cancer Screenings Could Save Your Life
Piedmont Colorectal Associates recommends regular colorectal cancer screenings if you are 45 years or older, even if you are not experiencing symptoms and do not have a family history of the disease. (The American Cancer Society revised their recommended age for first-time cancer screenings from 50 to 45 in 2018, due to the rise in cases among younger adults.)
Colorectal cancer does not always cause noticeable symptoms, and it does not always run in families. If colorectal cancer does run in your family, or if you are experiencing symptoms of colorectal cancer (e.g., changes in bowel habits, rectal bleeding, new or ongoing abdominal pain), we will likely encourage you to begin screening at a younger age.
Colonoscopies are widely regarded as the most effective screening tool we have for colorectal cancer. Not only can regular colonoscopies find colorectal cancer early, when we can treat the disease more effectively, they may also help you avoid getting cancer. During a colonoscopy, our doctors look for and remove precancerous polyps, preventing colorectal cancer down the line.
Data from the CDC and the American Cancer Society suggests that colorectal cancer screening rates have increased, and that nearly 70 percent of adults are up to date on their screenings.
Piedmont Colorectal Associates is a great place to undergo a colonoscopy. We go above and beyond to make the experience comfortable and productive for our patients. We understand you may have questions about the screening process, and we invite you to call or email us for more information. If you have other questions about colorectal cancer in general, we are also happy to answer them.